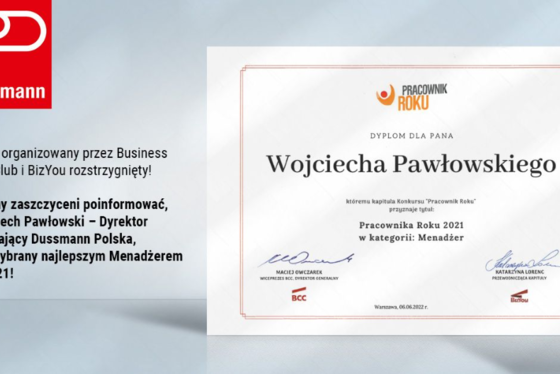 News
Manager of the year - Wojciech Pawłowski
Business Centre club & BizYou
published 06/06/2022
Well, it happened!
Who is the winner of the Business Center Club and BizYou competition, Lu-Bi Outsourcing HR? ⭐️ Who is the Manager of the Year 2021?
👉 When he appeared in the company in 2019, he said: "First we build the foundation: A motivated and competent team. Processes. And operational efficiency" (in his language it means innovation😊). He built.
👉 During this construction, he reminded us every day that we promote and practice our values, i.e. honesty, environmental awareness, passion, social responsibility, justice.
👉 He added a lot from himself: commitment, openness, support and an example of appreciation.
👉 By promoting development through innovation, he changed the company from analog into one of the most modern and "digitalized" (if there is such a word :-)) in the industry.
👉 He introduced the company to the path of rapid growth, significantly increasing turnover, profits and, as a result, market share.
👉 He made 2021 a record good year for our organization!
👉 He introduced an element to the strategy: "Dussmann is an employer of choice", which as a result attracted many valued specialists who like to work together!
👉 He introduced the company into the world of media and increased brand recognition

Wojciech Pawlowski
3 years ago you gave us a vision of where you would like us to be after three years. You have brought us much further than you expected. Because thanks to you, we want to reach for more! You have built an extremely effective organization whose teams reached company and industry records. Your door is always open for us and with every coffee or launch you motivate us to develop. You know when to correct our course and when to encourage us. And so every day for three years. We - your team really feel needed and important! Thank you for making us feel like a Partner, that our voice matters.

We want to say that the title you won on
global market, selected from so many eminent candidates
representing so many industries is a great reason for us to be proud!

You deserved it. WE ARE MOVED AND PROUD that we are under SUCH WINGS!